Tweed Jackets Cork
Magee Tweed Jackets
World-famous Donegal Tweed is spun and woven by hand by weavers in the north-west coast of Ireland. Con Murphys stock the Magee range of Tweed Sports Jackets. The Traditional herringbone is the most popular pattern, inspired many years ago by fish, caught by the part-time weavers, part-time fisherman.

Colour Choice

Soft Green, Rich Blue, Earthy Brown can be splashed with colourings of Blue, Red, Yellow and Purple to give life and vibrancy to traditional neutral colours. Tweed Jackets are very versatile, you can wear rich red cotton trousers with a jacket and feel comfortable on any occasion, or just wear a pair of Denim jeans and you will get the 'Smart Casual' look.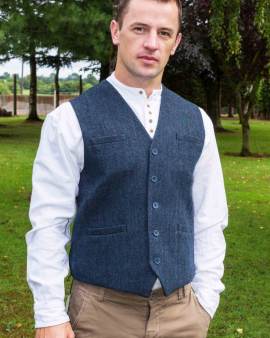 This Blue Irish Tweed Waistcoat is one of our customers favourites. This wool blend Waistcoat is hand made in a beautiful herringbone pattern. When Con Murphy opened his store in 1932, these Tweed Waistcoats were the best selling garments, and 89 years later, they are still popular! Being Irish Tweed, it is extremely comfortable, warm, breathable and well-tailored giving it a fabulous fit.This is a light weight tweed jacket that will not look bulky. There is a matching Sports Jacket available in this pattern.